Detoxifying is vital as it kills and eliminates toxins from your body, works on your wellbeing, and supports weight reduction as well!
We all know monsoons are on the way, and so are those viral infections. To deal with these and along with enjoying the monsoon season, this "Monsoon Detox Tea" is the best fit.
And why won't it be the best fit, after all, we love to sip a warm cup of tea along with enjoying the monsoons?
To fight the unwanted viral and fungal infections and diseases that this monsoon brings, we need to consume something which possesses some preventive and protective properties.
Most of the ingredients used in this tea have anti-fungal, anti-bacterial, and anti-inflammatory properties along with delivering good amounts of vital nutrients required by the body. So this tea not only saves you from viral infections but cleanses, detoxifies your body, and refreshes your soul at the same time.
HEALTH BENEFITS
Benefits the digestive system.
Cleanses and detoxifies the body.
Cures menstrual problems.
Improves cholesterol levels.
Maintains blood sugar level.
Good for the gut and increases metabolism.
Aids in weight loss.
PREPARATION TIME: 2 minutes
COOKING TIME: 2 minutes
TOTAL TIME: 5 minutes
Serves: 1
Calories: 15 Kcal/ Serve
INGREDIENTS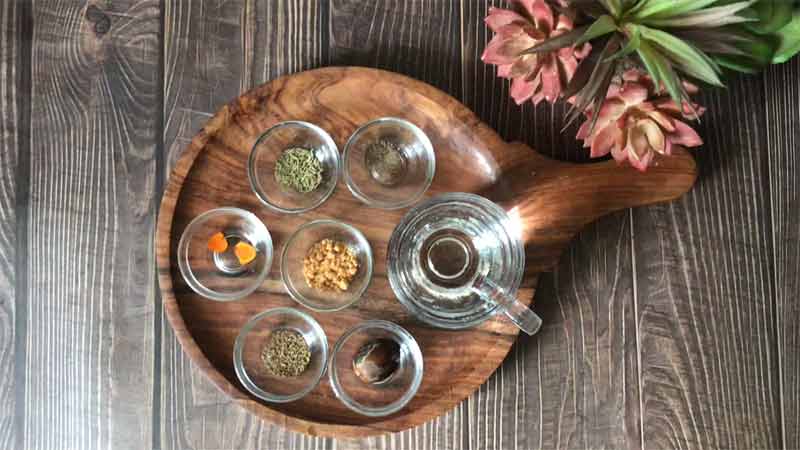 | | | |
| --- | --- | --- |
| 1. | Ajwain | ¼ tsp. |
| 2. | Fennel Seeds | ¼ tsp. |
| 3. | Fresh turmeric | Some |
| 4. | Nutmeg | Some |
| 5. | Black Pepper | Pinch |
| 6. | Jaggery Powder | ½- ¼ tsp. |
| 7. | Water | 1 cup |
DIRECTIONS
In a pan, add water.
Grind all the up-listed ingredients roughly except for the jaggery powder in a pestle and mortar.
Add the ground powder to the water and set it to boil.
Then add the jaggery powder and stir well.
Simmer the tea for just 35-45 seconds.
Cover the pan with a lid and let it infuse for 2-3 minutes before consuming it.
And your healthy and refreshing "Monsoon Detox Tea" is ready to enjoy.
NUTRITIONAL VALUE
Ajwain shows amazing anti-fungal, anti-inflammatory as well as anti-bacterial properties. It improves the flow of gastric juices and hence cures acidity, flatulence, and bloating. It is a good source of Vitamins B1, and B3 and minerals such as sodium, potassium, calcium, iron, and potassium.
Fennel Seeds or popularly known as "Saunf" are a package of vital nutrients, low on calories, and are a great source of Vitamin C. Rich in manganese, fennel seeds activate the enzymes and trigger the metabolism, thus aids digestion.
Fresh Turmeric is known to suppress the growth of fat tissue, and regulating sugar levels in the body, which indirectly or directly helps a lot in the journey of maintaining or losing weight. It also shows anti-inflammatory and anti-bacterial properties.
Nutmeg eliminates toxins out of the body and cleanses the body along with increasing the metabolism. It is also a great source of fiber and therefore it suppresses the appetite.
Black Pepper is a nutritious zest brimming with different minerals and nutrients. It is rich in but A, Vitamin E, Vitamin K, Vitamin C, and Vitamin B6. Further, it contains Riboflavin, Thiamin, Niacin, sodium, potassium, folate, choline, and betaine. It is very exceptional of spice to carry so much nutrition.
Jaggery Powder Jaggery purifies the blood and cleanses the respiratory tract, the lungs, and also the digestive tract.
| | | | |
| --- | --- | --- | --- |
| ENERGY | CHO | PROTEIN | FATS |
| 15 Kcal | 3 g | 1 g | 0.5 g |
Calories: 15 Kcal/ Serve
Count on this refreshing, healthy, and protective soul uplifting "Monsoon Detox Tea" for the upcoming monsoons.