My most favorite part about summers is "ICE-CREAM", and why not?
Nobody resists, at least I can't.
But whenever we have it, we have it with a pile of guilt, but you don't need to worry about it anymore.
We got your back!
Here is the very tasty, delicious, and nutritious Guilt free Ice-cream.
HEALTH BENEFITS
Helps in promoting blood sugar control.
Good for the heart.
Aids indigestion.
Controls blood pressure.
Enhances skin health.
Loaded with antioxidants.
Contains antibacterial properties.
INGREDIENTS
| | |
| --- | --- |
| Homemade Coconut Milk | 3/4 cup |
| Pure Peanut Butter | 1.5 tbsp. |
| Dates | 2-3 |
| Frozen Banana/ Mango | 3/4 |
| Vanilla extract | Few drops. |
| Desiccated Coconut | Some |
| Choco chips | Some |
DIRECTIONS
In a blender jar, add milk, frozen banana, peanut butter, and deseeded dates.
Give it a mix with the help of a spoon.
And blend it well.
Now add choco chips and desiccated coconut to it.
Mix well with a spoon.
Transfer to a bowl.
Top it off with some more choco chips and nuts.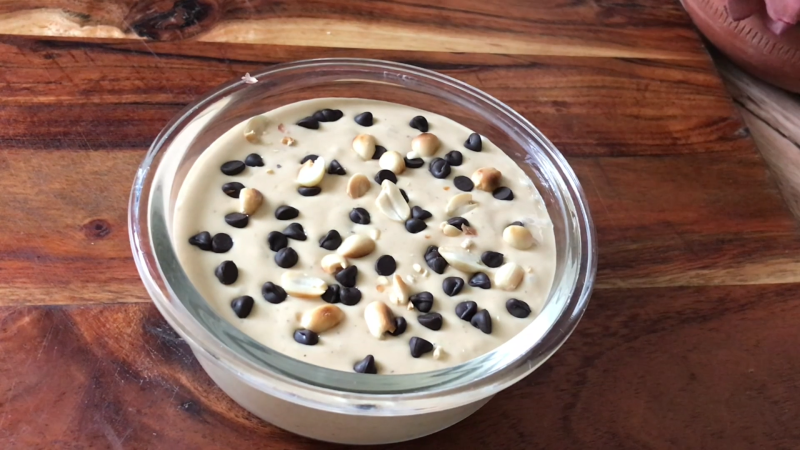 Cover it with an airtight lid and refrigerate overnight.
And your healthy and delicious "Dairy free Ice Cream" is ready.
Top it off with some homemade chocolate syrup and enjoy.
NUTRITIONAL INFORMATION
Coconut milk is enriched with the goodness of manganese, phosphorus, magnesium.
Peanut butter is jam-packed with the goodness of protein, healthy fats, Vitamin B3, B6, folate, copper, and manganese.
Bananas are a great source of potassium and fiber.
Mango is rich in vitamins A,K,C, potassium, magnesium, and folate.
Dates are loaded with antioxidants, and micro nutrients including vitamins B1, B2, B3, A, selenium, manganese, magnesium, and copper.
NUTRITIONAL CALCULATIONS
| | | | |
| --- | --- | --- | --- |
| Calories | Carbohydrates | Protein | Fat |
| 500 Kcal | 57 gm | 7.5 gm | 22 gm |
Serves= 1-2
Calories= 250 Kcal/Serve
Relish the taste of the very yummy, delicious and guilt free "Vegan Healthy Ice Cream".