Winter energy ladoos are a quick and easy snack to create with little effort.
It's not only a healthy recipe, but also a delectably tasty, filling, and enticing snack.
It's a wholesome and satisfying snack because it's packed with vitamins, minerals, healthy fats like omega-3 fatty acids, fiber, and protein.
Health Benefits
Aids in weight loss and management.
Curbs hunger and help avoid binge eating.
Helps to reduce bad cholesterol levels.
Helps in managing blood sugar levels.
Good for the gut and heart.
Gives an instant boost of energy
Bolsters the immune system.
Ingredients
| | |
| --- | --- |
| Fresh/Dry grated coconut | 1 cup |
| Almonds | 1/2 cup |
| Flax seeds | 1/3 cup |
| Quick oats | 1/3 cup |
| Jaggery | 1/2 cup |
| Desi ghee/ Virgin coconut oil | 1 tbsp. |
Directions
Dry roast the quick oats, flax seeds, grated coconut, and almonds in a kadhai or pan.
Once dry roasted grind it in a grinder.
In a kadhai, add some desi ghee and jaggery.
Let the jaggery caramelize.
Once melted, add the ground mixture of the dry roasted mixture into the kadhai.
Mix well and turn off the flame.
Divide the mixture into small portions and roll them out in the shape of ladoos with the help of your hands.
And your healthy and yummy "Winter energy ladoos" are ready to be served.
Nutritional Information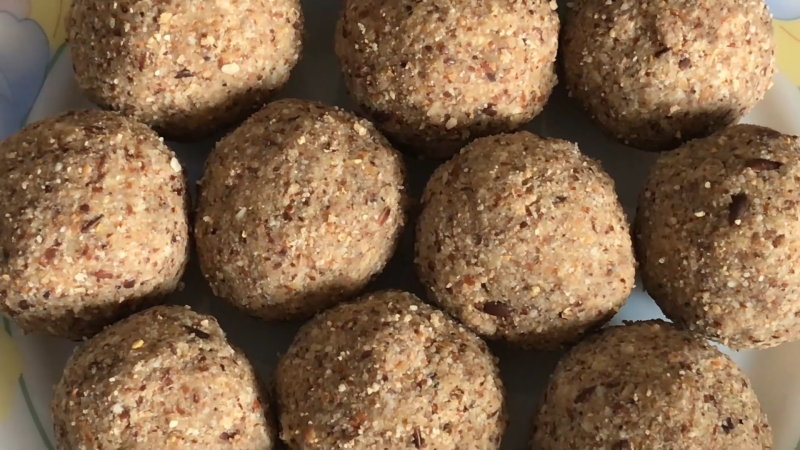 Coconut is highly rich in fiber, and vitamins, and minerals including Vitamin C, B1, B3, B5, B6, iron, selenium, sodium, calcium, magnesium, and phosphorus.
Almonds are jam-packed with the goodness of fiber, protein, vitamin E, calcium, copper, magnesium, and riboflavin.
Flax seeds are enriched with fiber and healthy fats such as omega-3 fatty acids.
Oats are rich in carbs, fiber, protein, and ample antioxidants.
Jaggery is rich in copper, magnesium, and iron.
Desi ghee is rich in healthy fats, vitamin A, E, and K.
Nutritional Calculations
| | | | |
| --- | --- | --- | --- |
| Calories | Carbohydrates | Protein | Fats |
| 1600 Kcal | 178 gm | 30.08 gm | 98.3 gm |
SERVES= 14-15
Calories= 106 Kcal/serve.