All the people out there who are looking for meals that are low on calories but at the same time nutrient-dense, so have a look at this highly nutritious high protein, low carb, and fat dinner that is so easy to make and is ultimate divine.
The recipe includes marinated and grilled or sautéed low fat paneer or tofu with 1 chapatti and some dry roasted vegetables.
You might be astonished how such a yummy recipe can be so healthy and low on calories too????
For that try it once and all the answers will be in hand.
This recipe possesses some incredible health benefits:
Contains anti-inflammatory properties.
Best fit for weight loss or management.
Aids digestion and prevents constipation.
Good for your heart health.
May lower bad cholesterol levels.
Balances blood sugar levels.
PREPARATION TIME: 5 minutes
COOKING TIME: 10 minutes
TOTAL TIME: 15 minutes
Serves: 1
Calories: 350 Kcal/serve
INGREDIENTS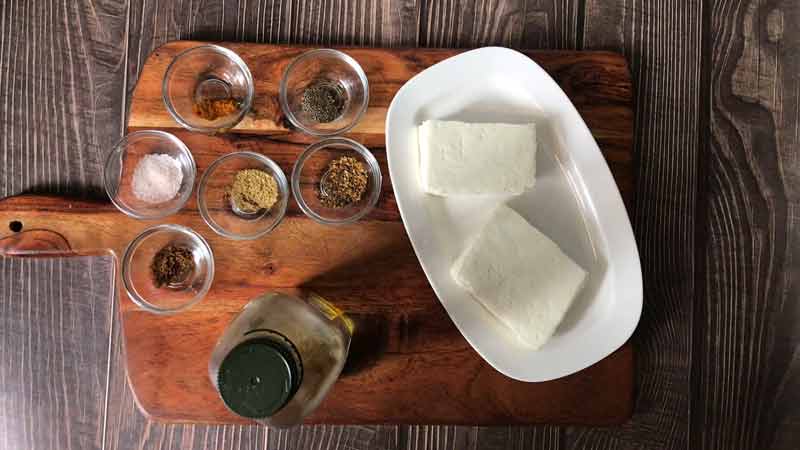 | | | |
| --- | --- | --- |
| 1. | Low Fat Paneer/ Tofu | 2 big pieces |
| 2. | Mixed Spices | As per taste |
| 3. | Olive Oil | 1 tsp. |
| 4. | Veggies | Your choice |
| 5. | Whole wheat Flour | 30 gm. (1 chapatti) |
DIRECTIONS
Marinate low-fat paneer or tofu.
Paneer or tofu should be chopped into medium sizes.
In a bowl add herbs & spices of your choice (Pink Salt, black pepper powder, mixed herbs, cumin powder, coriander powder, and turmeric)
Add some extra virgin olive oil.
Mix it well, coat paneer cubes into the marination.
Leave it to marinate and rest for a minimum of 2 hours to a maximum of 5 hours.
Spread some oil on a tawa or cast iron pan.
Place paneer cubes on it and cook on low heat until crisp.
Add seasonal veggies to the marinated bowl and shake well.
Grill veggies on medium to low heat until crisp. Make sure to not overcook them.
Serve the prepared dish warm with one chapatti and some Homemade ghee.
NUTRITIONAL VALUE
Tofu/ Low Fat Paneer are gluten-free and low in calories. It is an excellent source of iron and calcium
Vegetables are a good source of fiber and essential vitamins and minerals.
Olive oil contains modest amounts of vitamins E and K and abundant beneficial fatty acids.
| | | | |
| --- | --- | --- | --- |
| ENERGY | CHO | PROTEIN | FATS |
| 350 Kcal | 23 g | 17 g | 17 g |
Calories: 350 Kcal/serve
Count on this easy-to-make, low on calories, and nutrient-dense dinner recipe.