Carrots are one of the healthiest vegetables available, providing a lot of nutrition as well as some significant health advantages.
And, because we always encourage people to eat seasonal foods, this is the "season of carrots," and we're busy creating new and exciting healthy and delicious recipes with them.
"Healthy Crispy Carrot Fingers" is not only a brand-new concept, but they're also highly tasty and nutritious.
Health Benefits
Helps in strengthening the bones.
Prevents the buildup of fat and cholesterol in the body.
Good for the health of the liver.
Helps in lowering blood sugar levels.
Aids in weight loss and management.
Boost immunity.
Promotes eye health.
Ingredients
| | |
| --- | --- |
| Carrots | 3 |
| Rice flour | 3 tbsp. |
| Quick oats | 4-5 tbsp. |
| Salt | To taste. |
| Coriander powder | To taste. |
| Roasted cumin powder | To taste. |
| Turmeric | To taste. |
| Black pepper | To taste. |
| Amchur Powder | To taste. |
| Red Chili flakes/ powder | To taste. |
| Chaat masala | To taste. |
| Water | As required. |
| Healthy Oil | As required. (For shallow frying) |
Directions
Peel and roughly chop the carrots.
In a pan, add water and chopped carrots.
Turn on the lid and let them blanch for a while.
In a bowl add all other ingredients including quick oats and all the spices up listed and mix well along with some water to make a slurry.
Now dip the blanched carrots into the batter/ slurry and wrap nicely.
In a separate plate, add rice flour.
Now, you need to coat the wrapped carrots into the rice flour.
Now it's time to shallow fry the coated carrots into the oil.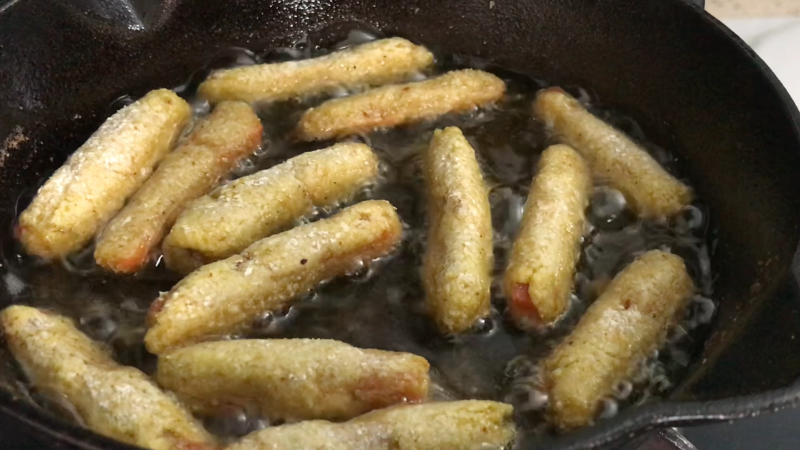 And your "Healthy Crispy Carrot Fingers" are ready to be consumed!
You can serve it with any dip of your choice.
Nutritional Information
Carrot is enriched with the goodness of Vitamin A, K, B6, potassium, biotin, and folate.
Quick oats are a wholesome ingredient jam-packed with the goodness of high protein, fiber, essential vitamins and minerals and loads of antioxidants.
Rice flour is rich in calcium, protein, and vital vitamins and minerals especially B vitamins.
Nutritional Calculations
| | | | |
| --- | --- | --- | --- |
| Calories | Carbohydrate | Protein | Fat |
| 270 Kcal | 30.1 gm | 3.8 gm | 15.6 gm |
Serves=1-2
Calories= 135 Kcal/ serve.

So, do try these crispy fingers to serve your kids when they ask for something delicious this evening.