Usually, we consume chapatti made from whole wheat flour, or in this new era, we have also started consuming chapatti made up of various flours such a ragi, Bajra, sattu, etc.
"High Protein Roti" is going to be a slightly different concept as this roti ensures a good amount of protein in your meal, and is very simple to make and consume.
This is a good alternative for people who are trying to lose weight or those who are unable to meet the protein requirements of the day.
This chapatti recipe is very less time-consuming and is yet extremely nutritious, it will simply add a punch of nutrition to your simple day-to-day meals.
Some health benefits of the high protein roti are:
Controls and reduces cholesterol.
Boosts the immune system.
Helps in cleansing the body.
Maintains the energy balance in our body.
Good for improving and maintaining good eyesight.
It eases digestion, maintains energy balance, therefore it aids in weight loss.
PREPARATION TIME: 10 minutes
COOKING TIME: 5 minutes
TOTAL TIME: 15 minutes
Serves: 10
Calories: 85 Kcal/ Serve
INGREDIENTS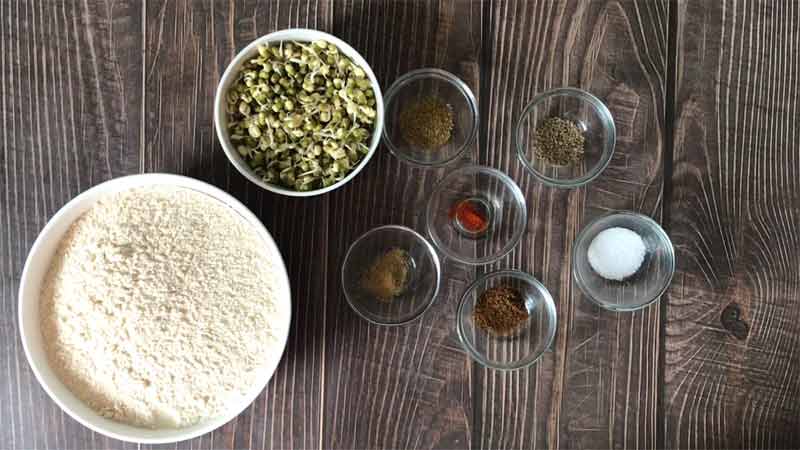 | | | |
| --- | --- | --- |
| 1. | Sprouts | 1 cup |
| 2. | Whole Wheat Flour | 2 cups |
| 3. | Salt | As required |
| 4. | Roasted Cumin Powder | Little |
| 5. | Ajwain | As required |
| 6. | Red Chilli Powder | As required |
| 7. | Coriander Powder | Little |
| 8. | Water | As Required |
DIRECTIONS
In a mixer, add sprouts and little water as required to make a paste.
In a bowl mix all the up-listed ingredients (whole wheat flour, spices, sprouts water).
Knead the mixed ingredients into dough.
Let it rest for some time.
Divide the dough into portions.
Roll them with the help of a rolling pin.
And now ultimately cook the chapatti on high to medium flame on both sides with the help of a pair of tongs.
Grease it with some homemade desi ghee.
NUTRITIONAL VALUE
Sprouts are highly beneficial as it increases the vitamin and mineral content. At the same time, it is also a good source of protein. It simply enhances the bioavailability of the nutrients consumed in a meal.
| | | | |
| --- | --- | --- | --- |
| ENERGY | CHO | PROTEIN | FATS |
| 850 Kcal | 165 g | 30 g | 3.5 g |
Calories: 85 Kcal/ Serve
QUICK NOTE: You can also add some portions of ragi flour or sattu flour or Bajra flour in the recipe to make it more nutrient-dense and healthy, otherwise if not you could consume it simply as well.
But don't forget to switch to this amazing alternative sometimes.