Soups are known to be the best appetizers! So, today's recipe is "Low carb Creamy Vegan Soup".
I am a big fan of soups and love experimenting with them, so here is one of the very new, healthy, and my current favourite soup recipe.
Usually, restaurant made soups are composed of creams, maida, and of course milk, in which two out of three ingredients doesn't sounds healthy. But this soup is free of the three ingredients and is an awesome option for vegans too.
HEALTH BENEFITS
Aids in weight loss and management.
Helps in controlling blood sugar levels.
Helps in reducing bad cholesterol levels.
Helps in boosting the immune system.
Eases digestion and relieves constipation.
INGREDIENTS
| | |
| --- | --- |
| Quick oats | 4 tbsp. |
| Seasonal veggies mix | 2 cups |
| Salt | To taste. |
| Black pepper | To taste. |
| Garlic | 2-3 cloves |
| Onion | 1 |
| Low fat paneer/ Tofu | 50 gm |
NOTE: I have taken carrot, capsicum, mushrooms, fresh corns, broccoli, pumpkin, fresh green peas, and tomato.
DIRECTIONS
In a pan, spread some oil.
Add chopped garlic and sauté it a bit.
Then add chopped onions, fresh peas, and cook until the onions are slightly brown.
Meanwhile, roughly chop the seasonal veggies you have taken.
Add the roughly chopped veggies in the pan.
Cover it with a lid and let it cook for sometime on slow to medium heat.
In blender jar, add quick oats and water, and blend them altogether to make oat milk.
Meanwhile, add other veggies including chipped capsicum, corns, tomato, and at the end our homemade fresh oat milk.
Now add some dices of low-fat paneer/tofu and some spices and seasoning as per choice and taste.
Adjust the consistency of the soup by adding more water if required.
Cook it for a minute or so with a lid on, and stir it in intervals.
Once cooked, garnish it with fresh coriander leaves.
BONUS: You can also add some lemon juice.
Serve warm and enjoy.
NUTRITIONAL INFORMATION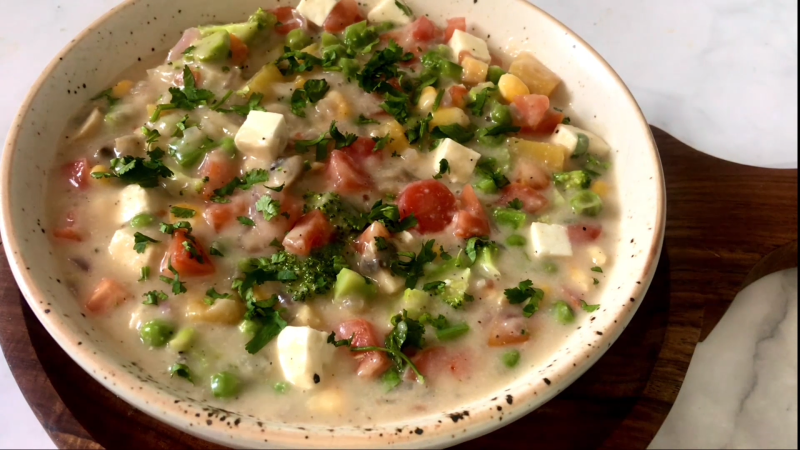 Quick oats are rich in protein, low carb, essential vitamins and minerals, and ample number of antioxidants.
Seasonal veggies are a great source of fiber and are loaded with significant micronutrients.
Prefer using seasonal veggies because:
They are the season's fresh produce.
They are very easily accessible.
Highly nutritious.
Garlic is a good source of essential vitamins and minerals. Each garlic clove has moderate amounts of vitamin C, zinc, calcium, iron, potassium, magnesium, Vitamin E, K, and manganese.
Low fat paneer is an excellent source of protein, and micronutrients especially calcium, phosphorus, magnesium, potassium, and vitamin B12.
NUTRITIONAL CALCULATIONS
| | | | |
| --- | --- | --- | --- |
| Calories | Carbohydrates | Protein | Fat |
| 643 Kcal | 105 gm | 25 gm | 22 gm |
Do try this amazing creamy dinner soup in your meal sometime.