Panjiris are my top favorite when it comes to snacks, as it's not just a snack, but a whole bunch of memories and a token of love.
Oats Panjiri is full fledge package of the adequate balance of macro and micronutrients that can be listed under a healthy and well-balanced snack!
HEALTH BENEFITS
Helps in lowering blood sugar levels.
Helps in promoting healthy bacteria in your gut.
Eases digestion.
Aids in weight loss and management.
Helps in lowering cholesterol levels.
Bolsters the immune system.
INGREDIENTS
| | |
| --- | --- |
| Quick oats | 1 cup |
| Fresh/ dried coconut | 3/4 cup |
| Peanuts | 3/4 cup |
| Phool makhana | 1 cup |
| Almonds | 1/2 cup |
| Nuts and seeds | As per choice |
| Desi khand/ jaggery | 1/4 cup |
DIRECTIONS
First of all, dry roast peanuts in a pan.
Then transfer it to a bowl.
In the same pan, dry roast the phool makhana.
Also, add almonds to it.
Transfer them to the bowl as well.
Now dry roast quick oats.
Now it's time to dry roast the coconut.
Transfer it to the same bowl as quick oats.
In a grinder/ mixer, add dry roasted peanuts, phool makhana, and almonds.
Grind them to a powder.
Now add dry roasted quick oats, coconut, and desi khand, and grind them as well.
Mix the two of the grinded mixtures altogether and your oats Panjiri is ready!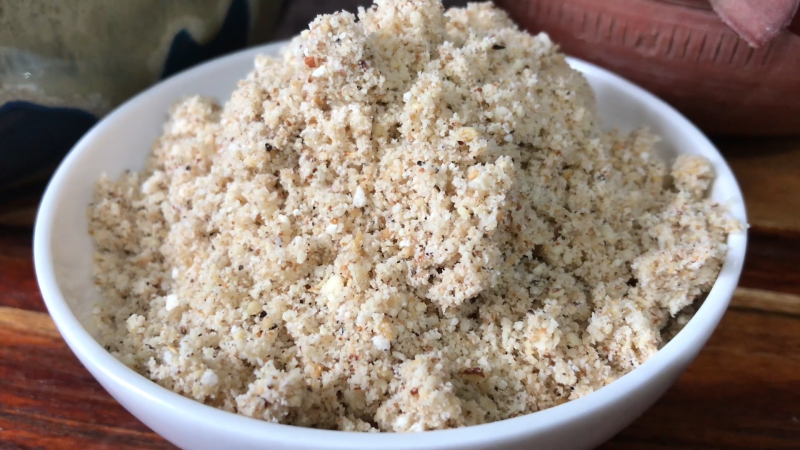 NUTRITIONAL INFORMATION
Coconuts contain a significant amount of selenium, copper, iron, and manganese.
Almonds are jam-packed with the goodness of magnesium, vitamin E, protein, good fats, and dietary fiber.
Oats are an excellent source of fiber, nutritious carbs, protein, and many important vitamins and minerals, such as iron, manganese, phosphorus, B vitamins, selenium, magnesium, and zinc.
Peanuts are abundant in protein, healthy fats, magnesium, and many more micronutrients.
Phool Makhana contains minerals like calcium, magnesium, iron, and phosphorus as well as a high amount of protein and fiber.
Jaggery is abundant in Vitamin B, C, potassium, copper, iron, and magnesium.
NUTRITIONAL CALCULATIONS
| | | | |
| --- | --- | --- | --- |
| CALORIES | CARBOHYDRATES | PROTEIN | FAT |
| 1839 Kcal | 172 gm | 55.7 gm | 113.7 gm |
Serves= 15-20
Calories= 91 Kcal/serve.