Bored of the same breakfast sandwich? Let's try something healthier, tastier and nutritious.
This "High protein and fiber creamy sandwich" is loaded with all the nutrients you need to kickstart your day.
It is jam-packed with the goodness of high protein, high fiber, and ample of essential vitamins and minerals.
Not only very easy to make in very less time, it is very delicious and keeps you satiated so that you feel energetic at the start of your day.
Health Benefits
Aids in weight loss.
Helps in strengthening bones.
Helps in controlling blood sugar levels.
Improves metabolic rate.
Aids in maintaining healthy cholesterol levels.
Bolsters the immunity.
Ingredients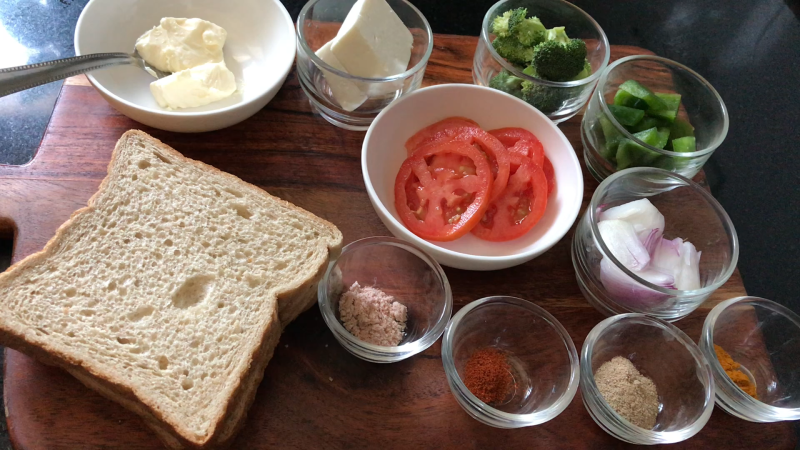 | | |
| --- | --- |
| Tofu/Low fat paneer | 50-70 gm |
| Tomato | 1 |
| Broccoli | Some |
| Onion | 1/4 |
| Capsicum | Some |
| Butter/ Olive oil | 2 tsp. |
| Bread slices | 4-8 |
| Pink salt | To taste. |
| Turmeric | As required. |
| Chili | To taste. |
| Chaat masala | To taste. |
Directions
In a grinder or mixer, add roughly chopped veggies including onion, capsicum, broccoli, and tofu.
On top of it, sprinkle the spices as per taste.
Grind it to a paste.
Now, spread butter on each slice.
And then spread the grinded paste onto each slice.
Place 3-4 slices of tomato on it and cover it with another slice.
Now it's time to cook the bread slices.
Brush some butter or oil to both the sides and cook them in a sandwich maker or on tawa as per you like.
Your "Healthy High Protein and Fiber Creamy Sandwich" is ready.
Cut it into half and serve warm with any dip or chutney of your choice.
Nutritional Information
Tofu is jam-packed with good quality and quantity of protein, along with essential vitamins and minerals including potassium, magnesium, calcium, vitamin B12, etc.
Vegetables including tomato, broccoli, onion, and capsicum are not only loaded with a lot of fiber but is also enriched with amazing proportions of essential vitamins and minerals.
| | | | |
| --- | --- | --- | --- |
| Calories | Carbohydrates | Protein | Fats |
| 623 Kcal | 76 gm | 20.2 gm | 31.1 gm |
Total Yield= 3-4 sandwiches
Serves= 2
Calories= 155 Kcal/serve